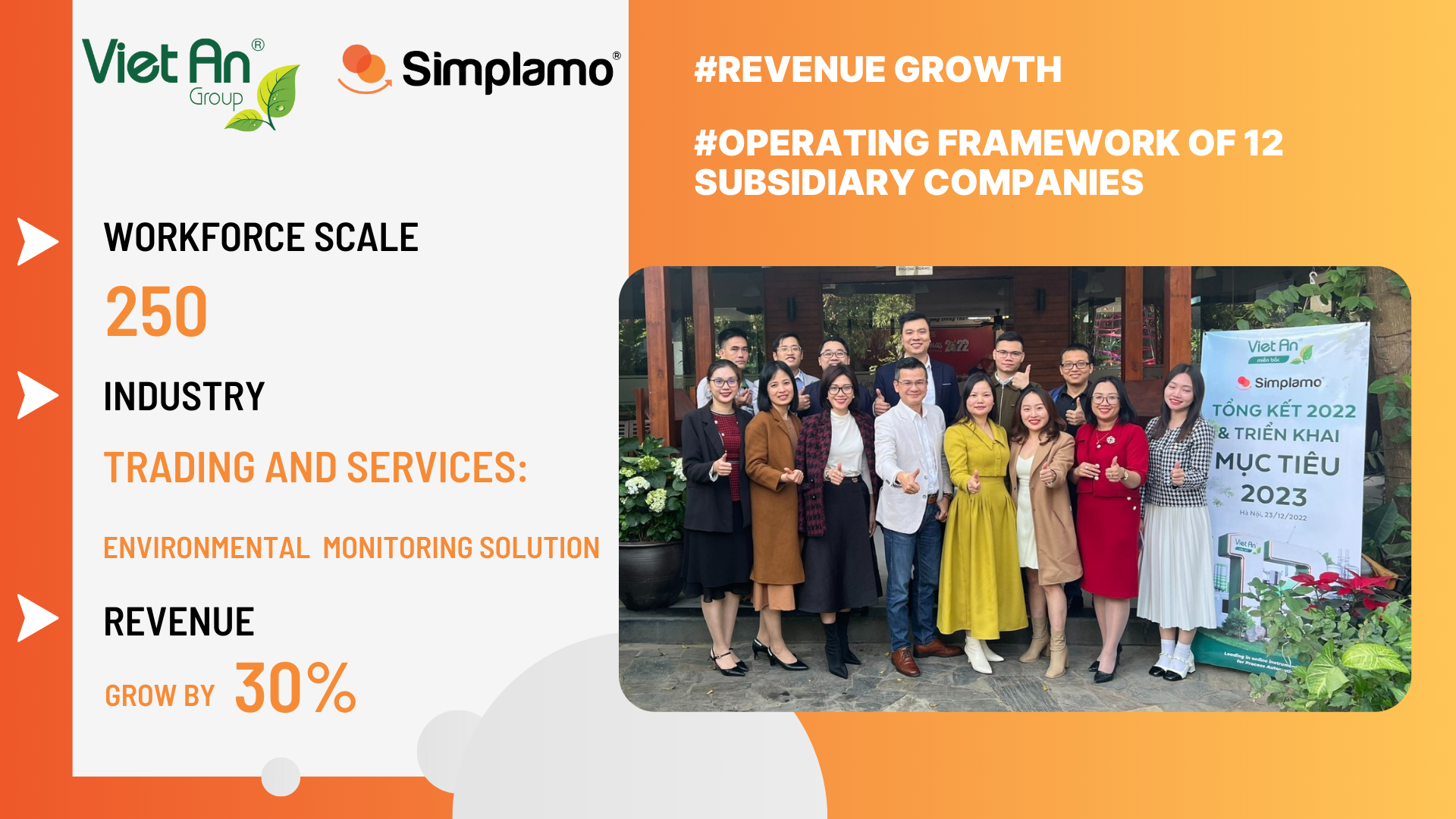 As a leading enterprise in the environment industry for many years, Việt An Group has continuously developed strongly, creating a reputation and a deep imprint in the market. Being in a prominent position does not mean that there are no challenges, and Việt An Group's problem is even more difficult than many other businesses because its ecosystem includes 12 subsidiaries and over 250 employees operating throughout Vietnam, in three regions, North, Middle and South.
Việt An Group – A great position goes along with more challenges in management
Việt An Group is a leading unit in the field of environmental monitoring and analytical equipment, applying the latest technologies such as IoT, data center, AI into solutions. With over 12 years of operation, Việt An Group has installed over 1,000 environmental monitoring stations, providing analysis and measurement equipment to factories to support intelligent production processes.
Việt An has gone through a very rapid development stage and has maintained its position for many years. However, with pressure from expanding scale and from being a market leader, the difficulties are increasing day by day. The fortunate thing for Việt An is that it has a very enthusiastic leadership team who are willing to learn, face their own problems, but they tried to apply different methods and business management software, still they were not effective at all for the whole team, just a separate tool, didn't have a management mindset.
Below are the challenges that Việt An faced at the time, Simplamo platform appeared like  Savior as the most suitable business management software with effective tools for tracking performance KPI/OKR and empower the proper tasks for your employee, that fits with their capacities
Firstly, Let's take a look at the challenges Viet An Group are facing before Simplamo appeared:
Complex human resources system with over 250 employees.
Disconnection, the departments operate separately, do not care about the common goal, and everyone just worries about their own tasks.
The leadership team is struggling to manage the 8 subsidiary companies (as of 2020), each of which operates in a different way.
Losing control internally, difficulty in uniting the team with a common goal, and that makes many employees leave.
KPI and OGSM have been applied but not successful, causing a waste of time and resources for a long time.
There is no efficient enterprise operations software.
Faced with a difficult problem, Mr. Nguyen Hoai Thi – Chairman of Việt An Group said: " A comprehensive business management platform combined with OKR and KPI from Simplamo platform is exactly what Việt An Group needs right now"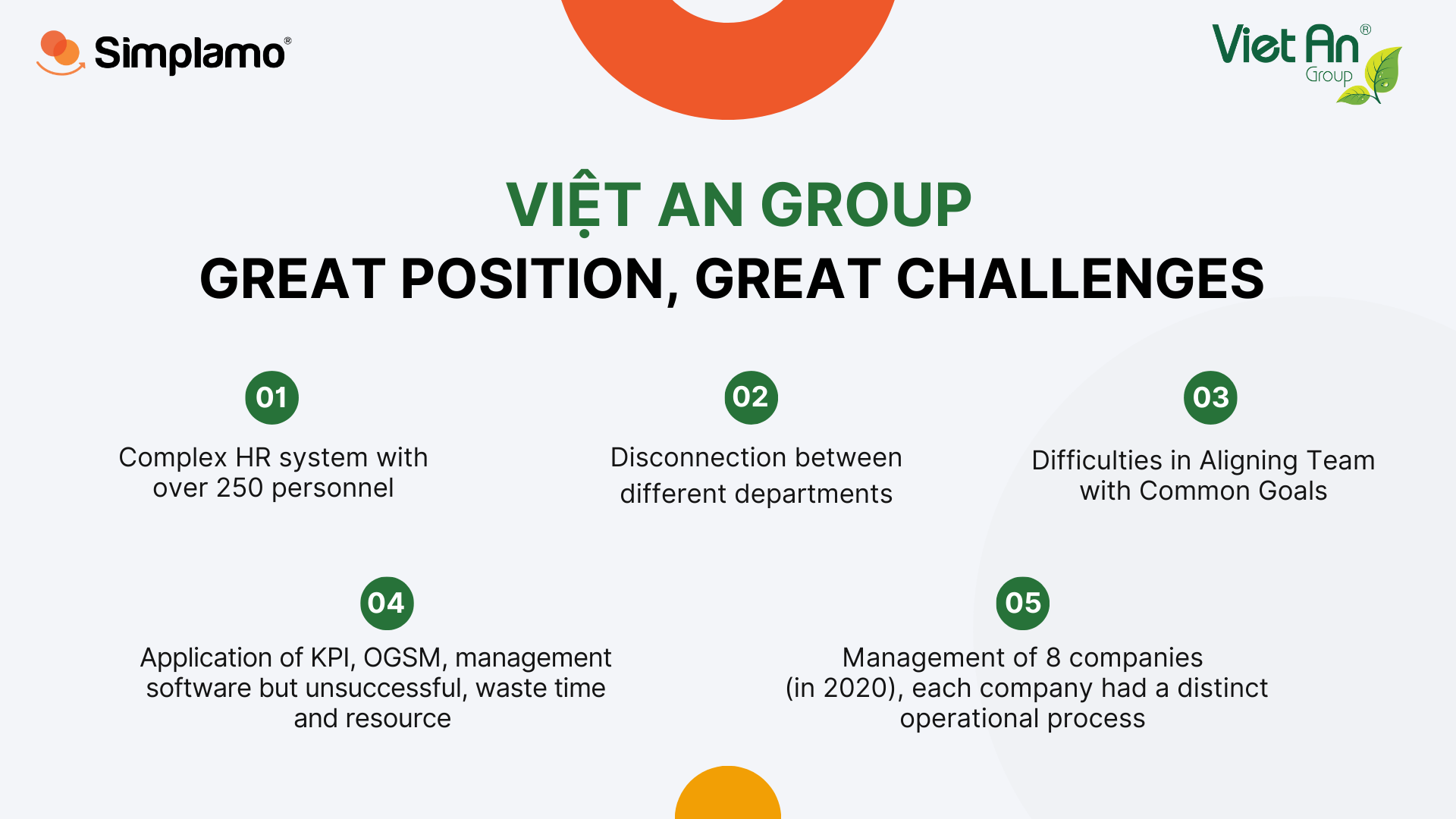 2. Perfect solution for Company when Technology approach in the right way
Starting to use Simplamo since March 2021, Simplamo faced a big question from the Viet An team. They had previously applied many different software and complex management methods but still lacked effectiveness, then a software called Simplamo – Simple & More, simple and focused on the core, could solve the problems that the others could not?
Simplamo is simple, but simple enough to operate a business, that simplicity is the unique icon, indeed, Simplamo is the crystallization of modern management thinking of the 21st century.
To start this journey, Simplamo starts from the most fundamental things of an organization, helping to change the mindset of the team weekly and continuously over a long period of time.
Firstly, with Simplamo's Vision Board tool, Viet An easily builds a strategic vision board for their business, in a clear and easy-to-understand language. Through Simplamo, this Vision Board is widely communicated throughout the organization, with each employee understanding the core values, vision, and mission of the business, thereby creating a common voice and building connectivity between departments and the entire organization.
Secondly, with smart goal-setting and measurement, combining KPI and OKR, Simplamo helps Viet An identify quarterly goals to focus team resources, minimize confusion, and weekly track business activities.
Thirdly, and most importantly, Simplamo's weekly meeting tool helps Viet An solve current challenges. With a smart 7-step meeting framework, integrated problem-solving tools, and todo and auto report sending, it has helped Viet An to solve a series of bottlenecks, connect the team from top to bottom, and continuously update feedback every week. Through this meeting tool, Viet An's leadership team has a clear understanding of the organization's situation from top to bottom and saves many hours of exhaustion in traditional meetings.
Fourthly, to answer the question of rearranging the organizational chart for more than 250 personnel, operating in 8 departments, Simplamo's approach is to build a responsibility chart based on the basic functions of a business and can run well in the next 6 to 12 months. With flexible functions in arranging and based on pre-set scientific principles, Simplamo helps Viet An easily adjust and expand the chart to meet the development needs of the business.
Fifthly, the employee evaluation tool provided by Simplamo is also a highlight, with the flexibility to set specific goals, track performance regularly, and provide detailed and objective feedback to help employees improve their performance and contribute more to the business.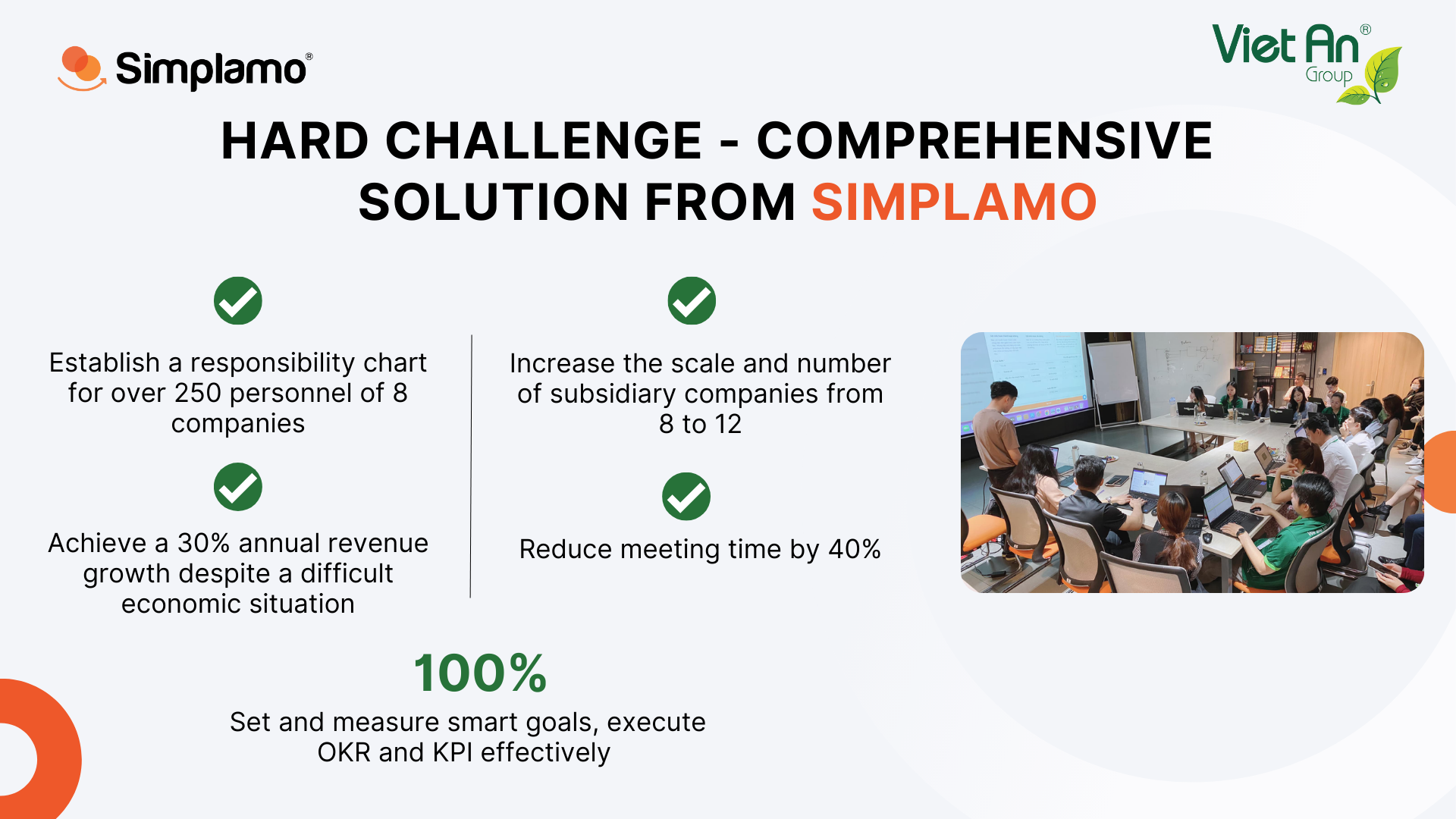 In conclusion, Simplamo provides a complete solution for businesses in problem-solving, with a scientific approach that helps organizations change their mindset and improve their performance in the long term.
Sharing from Ms. Hoang Thi Kieu – CEO of Viet An Group:
"Having been involved in managing many companies before, Kieu understands that many businesses are facing similar difficulties as Viet An. To solve these problems, businesses should use Simplamo software.
We hope that small and medium-sized enterprises will soon find and apply Simplamo to solve management problems, focus on developing products and services to increase value for customers."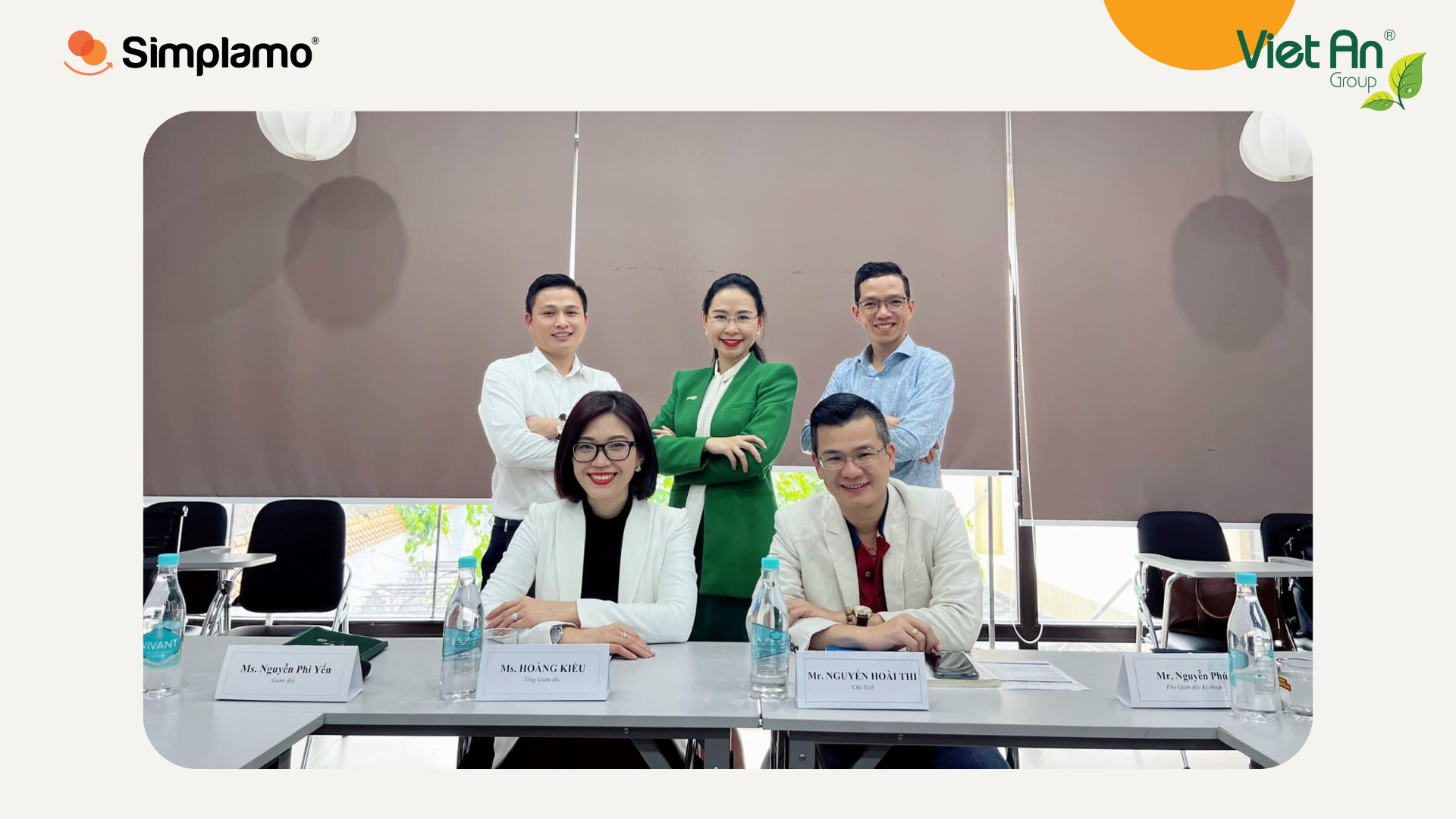 3. Impressive 30% annual growth thanks to Simplamo
As of December 2022, Viet An Group has been using Simplamo for nearly 2 years. In addition to effectively addressing the issues raised in the brief and building a standard operating framework for its 12 subsidiary companies, the following achievements have been made:
Achieved 30% annual revenue growth despite difficult economic conditions
Increased the scale and number of subsidiary companies from 8 to 12, and developed vigorously to seize opportunities from the market
Reduced meeting time by 40% and significantly increased work efficiency
These achievements are thanks to the determination and solidarity of the Viet An Group team, as well as the enthusiastic implementation of Simplamo by the consulting team.
Sharing from Mr. Nguyen Hoa Thi – Chairman of Viet An Group:
"The secret to successfully managing multiple subsidiary companies is that they should have the same management approach and speak the same language. I manage 12 companies according to the standard framework from Simplamo, and managing everything becomes easy because we all think the same way. In other words, Simplamo helps me Liberate my leadership"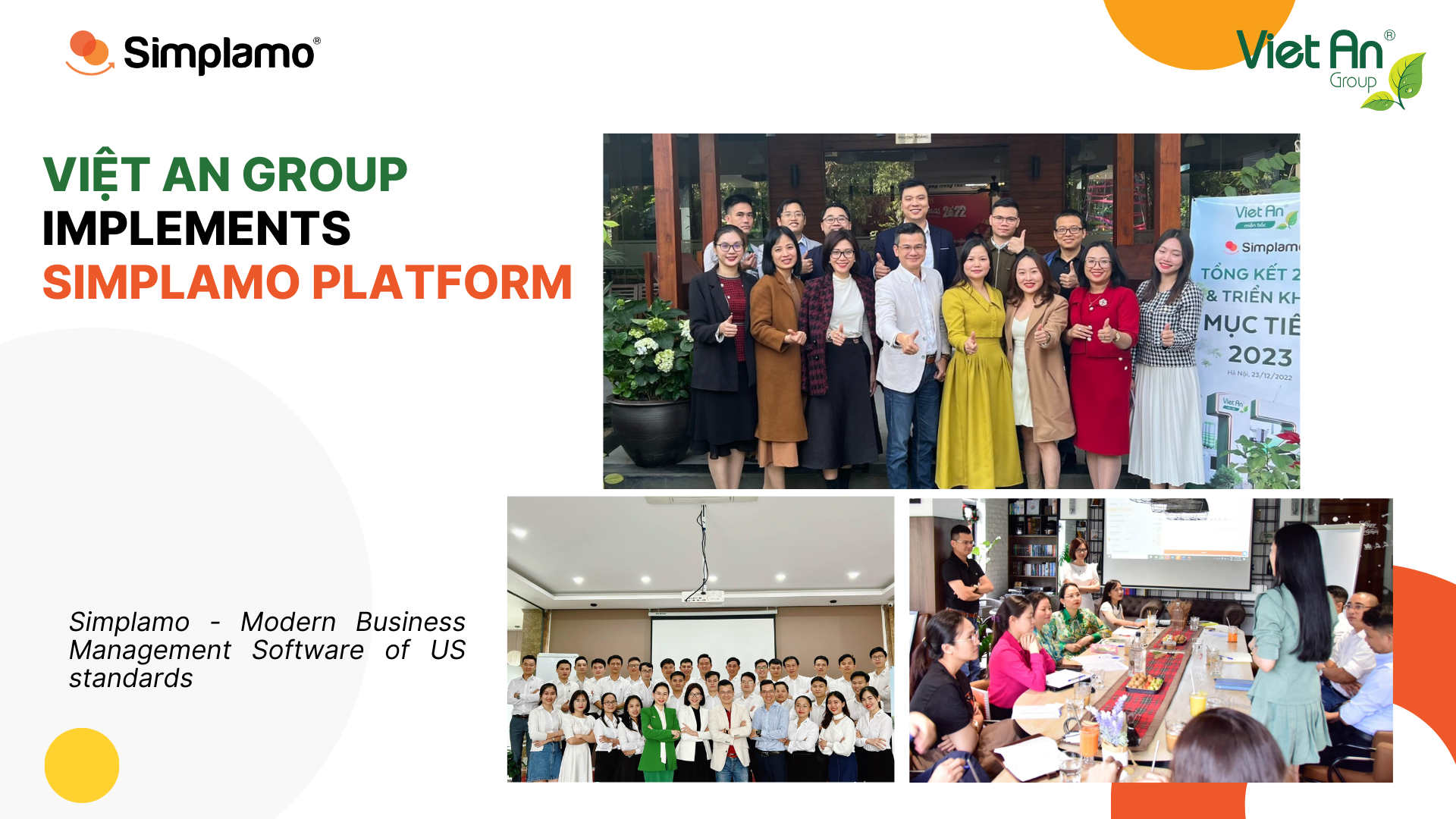 With the aim of bringing success to businesses and freeing up leadership, Simplamo will continue to accompany Viet An Group in its sustainable development.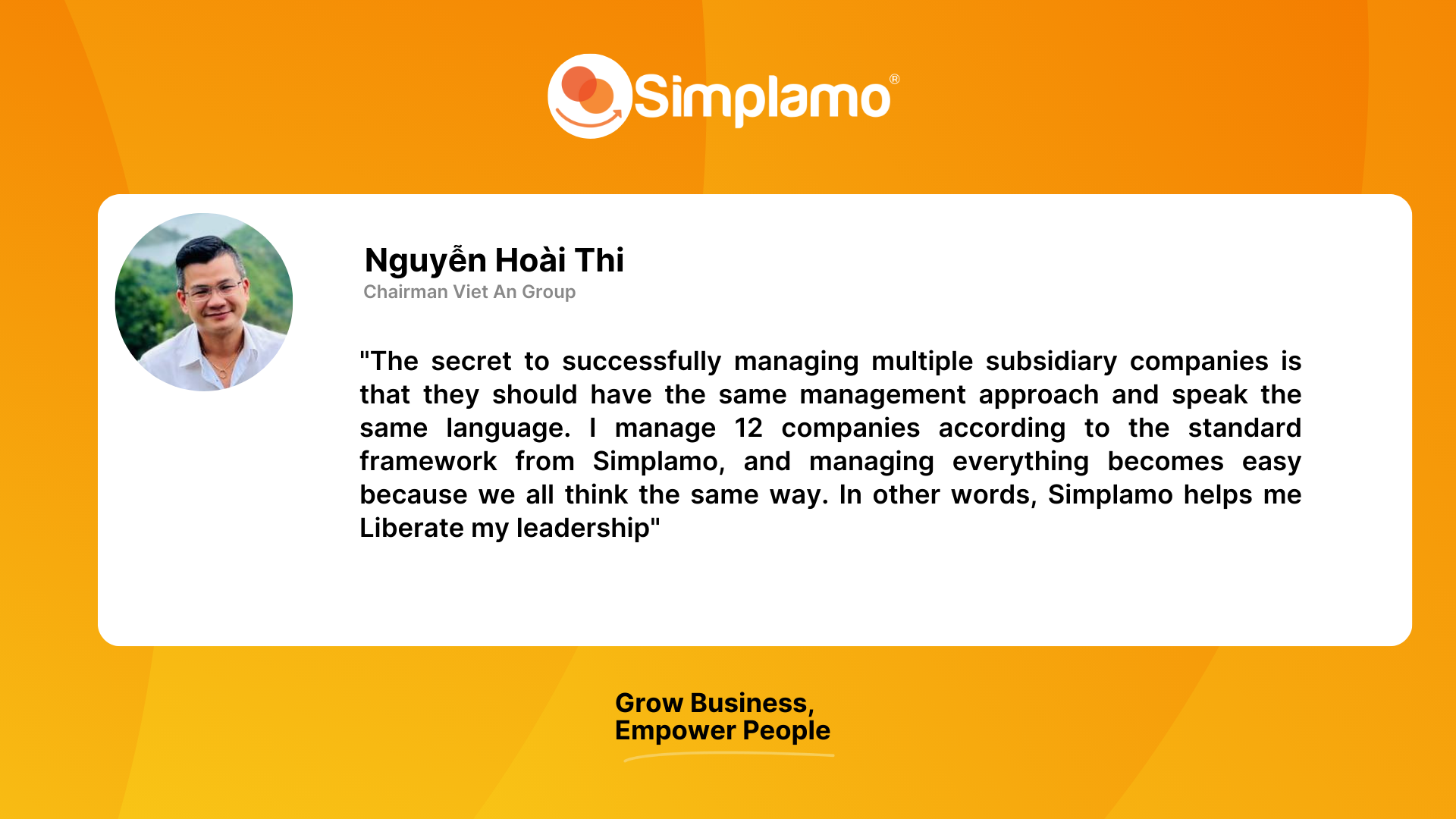 Simplamo is a modern and scientifically-based management software that uniquely combines KPI and OKR, making every aspect of operation simple and approachable for every employee. It relieves pressure for leaders, allowing them to focus on important missions and optimize work performance for the business.
Experience Simplamo and feel the change in just 4 weeks! Register for a Simplamo demo at: https://app.simplamo.com/sign-up